A summary of J.E. Mazur Article on Space Radiation from The Aerospace Corporation and other related articles
http://www.aero.org/index.html
Article

http://www.aero.org/publications/crosslink/summer2003/02.html
Solar and cosmic radiation high-energy particles, belts of protons, electrons and ions collected within Earth's magnetic field is a hazard to satellites and their hardware.
The Apollo missions exposed the astronauts to this radiation because the lunar orbit took them outside the earth's geomagnetic shield.
This radiation is relatively uncommon within Earth's atmosphere and therefore many commercial off the shelve parts manufacture do not account for these sources in earth designs. The regions that satellites encounter radiation areas include the Van Allen belts, cosmic rays, neutrons, and other subatomic particles created in high-energy collisions of primary particles with spacecraft materials. The space environment also changes with time, often in unpredictable and undiscovered ways, making it a challenge to completely assess the hazards in any orbit.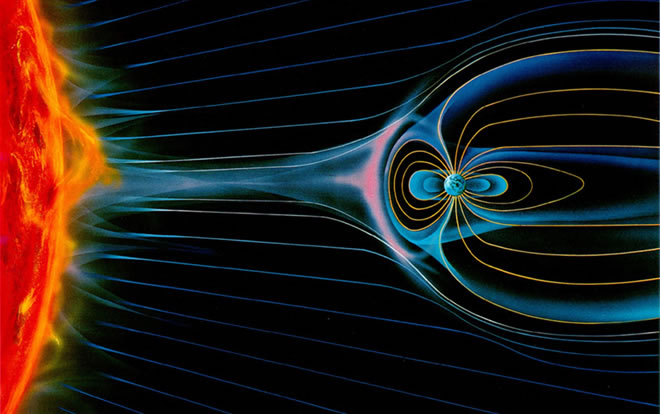 Figure E3. Earth's magnetosphere is a teardrop-shaped cavity formed by the interaction of the solar wind with Earth's magnetic field. The solar wind becomes subsonic at the bow shock. The magnetosphere contains the Van Allen radiation belts (NASA)
Typical satellite orbits cross many of these regions and spend a variable amounts of time in each. The unit of kinetic energy for these particles is the electron volt. At high energies (millions of electron volts), these particles have sufficient energy to ionize atoms in materials through which they propagate. At lower energies (below thousands of electron volts) their effects range from charge accumulation on surfaces to material degradation. The interaction of space particles with spacecraft materials and electronics is complex to describe and difficult to simulate with ground-based test facilities.